Hail to the King Vol. 18 – The Dark Half
"In The Dark Half I tried to answer the question 'Where do you get your ideas?'  It seems to me that for most writers there really is another person hiding inside, although it isn't always dark and it's hardly ever as much as a half."
– Stephen King
Thad Beaumont's mind's eye gets him into all sorts of trouble.
The Book
So right off the bat, we need to acknowledge that King is, yet again, really writing what he knows. In this instance he's taking from his unique experience of being both Stephen King and Richard Bachman. Although, I doubt Bachman's proxy, George Stark, could ever be accused of writing a story upon which an Arnold Schwartzenager film would be based. We find another novelist at the centre of the story, but in this case he has twin kids… totally different from Steve's real life, you guys. I guess Thad not being a horror author could be considered growth? I don't know.
This book suffers with a saggy middle section most King books tend to avoid. He usually makes great strides in the middle, which are undone by often-lackluster endings. In this case, we know pretty much that the story will end in a confrontation between Beaumont and Stark, but the book runs out of steam in the first third. After Stark commits a string of grisly murders of the people who considered to "kill" him, we settle in the rhythm of Stark toying with Beaumont. All the murders happen in such quick succession; you want King to space them a little more evenly, maybe have Stark get creative with what he's doing. But here, a pace is set which the book can't keep up with in the second act. The most confusing aspect is that Stark seems to be both physically falling apart with Thad writing a story under his name, but almost manages to take charge of Thad's life at the same time. So he's growing weaker and stronger at the same time, which leaves the reader to question why Stark is so up and down.
We're back in Ludlow for the bulk of this story, which seems to be King's defacto resurrection town. I had images of the book ending with Stark killing Beaumont's wife and him having to take a trip up past the old pet semetary. Seriously, people are popping out of the group left and fucking right in Ludlow, it's worse than Pittsburgh. Later we do finally take a trip to everyone's favourite place in King's fiction, that's right Haven… I mean Castle Rock. (I haven't seen that new Castle Rock T.V. show yet, but some of the stuff I've read hasn't exactly been encouraging.)
Like all things in Stephen King's Maine, people just accept the supernatural. This story is very effective in that all the characters slowly build to this acceptance without just jumping to "it was a ghost". We see Pangborn investigate all the possible things it could be before turning to the otherworldly explanation. It makes his story more believable and helps to ground him as someone the audience can root for in his search for Stark. Although being Sheriff in Castle Rock, I imagine you see your fair share of weird stuff (and go through a much more vigorous screening process after Frank Dodd's exploits almost 20 years before this story takes place). So Pangborn may have more of an acceptance to this mystical stuff than we think.
Connections
Pet Semetary – Both books take place in Ludlow.
Needful Things – The New Sheriff, Alan Pangborn, appears in both books, as does the setting of Castle Rock.
Cujo – Alan Pangborn talks about his predeAAAAAAAAAAAAAAAAAAAAAAAAAAAAA!
The Movie
It's worth noting from the off that this is a George A. Romero joint effort with King. King and Romero clearly had a strong friendship through things like Creepshow, and King dedicated Christine to Romero and the city of Pittsburgh. This is the first and only time Romero took on a King story, and he does it pretty darn well. The action moves forward at a nice pace, and the movie fixes the pacing issue I had with the book, spreading old Geroge Stark's reign of terror evenly throughout the first two thirds of the movie.
The cast in this one are all okay – no real stand out bad performances, but I will give special mention to Michael Rooker as the town Sheriff. It's not often you see Rooker cast in a straight forward good guy role, and he lives up to it admirably. While he's know now for his Yondu role in the Guardians of the Galaxy movies or from The Walking Dead T.V. show, he'll forever forever being Mr. Svenning in my heart.
With Romero come some top quality practical effects. The image of young Thad having brain surgery as a kid and seeing the dead eye in his brain was exactly as I pictured it when I read the book: such a visceral punch. Sadly, aside from this and the effect of the sparrows flocking around at various points and ripping Stark apart at the end, the film is pretty visually bland. Its set ups are okay – nothing wrong with them, but they don't have much visual excitement. A few of the kills are Argento-esque, being lit by a bright red light. But at no point are you ever scared of Stark. He's meant to be this unstoppable force who moves like a ghost in the night. In the movie, they purposefully hide his face so we don't all see it's Tim Hutton playing both roles. This was something else that was disappointing. In the book the men look similar but are described physically as polar opposite: Thad is thin and dark haired, whereas Stark is blonde and muscular.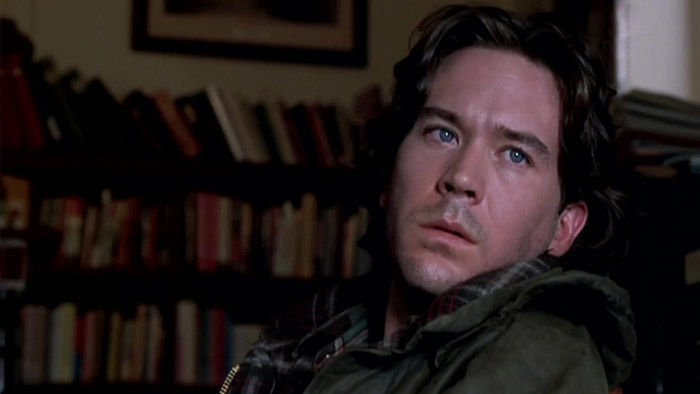 Differences
One of the key small differences between the two materials is once again the movie fixing a problem with the book. Stark's killing spree is meant to be against those who wronged him/participated in helping Thad Beaumont bury the alter ego for good. But the one murder that never made sense in the book was the killing of Homer Gamache. I get it was for the convenience of having his truck, but Stark could have killed several other times for his own ends and doesn't. Only poor Homer bites the bullet for that. The movie casts Homer as the photographer who shoots the magazine cover in which Thad literally buries Stark. This makes much more sense and makes Stark's vendetta/supernatural killing spree much more personal.
The movie provides us with some prologue to Thad's little secret being worked out by a law student, Fred Clawson. This puts the audience on much of the emotional journey with Thad as we see him struggle with the idea of killing Stark. The book picks up and the deed is already done: Stark is already dead and buried, so to speak, and we spend the first 50 pages or so piecing together the story of what happened.
Overall: I have to go with the book, it was a real page turner… or whatever you call that in audiobook form. I usually take most of the month to listen to the book – I knocked this out and two other books this month.
Next Time: Stephen King made it simple. Jeff Fahey made it… oh god.