Hail to the King Vol 7 – Cujo
"At the end of my adventures I was drinking a case of sixteen-ounce tallboys a night, and there's one novel, Cujo, that I barely remember writing at all." – Stephen King
You might think this story is about a killer dog. Spoilers, it's not.
The Book
This is the first King book I've outright hated. I know my last two reviews haven't exactly been glowing, but they have at least had something positive to take away from the story. Not this time. To pull back the curtain a little, I get the audiobooks for all of these books, so it's an auditory experience. The audiobook for this one clocked in at somewhere near 10-ish hours. It took me an entire month to slog through this shit, finding an excuse to pause the book and go do anything else.
This book didn't work for me because I feel it's a case of false advertising. The cultural understanding of Cujo is it's a tale of a killer dog and has become a pop culture term for an "evil" dog. It would have been nice to actually see that story in this book rather then the 200+ pages of boring family drama. One of these stories features a middle class family called the Trentons: Donna, the wife, is having an affair; Vic, the husband, is an ad man for a cereal company; and Tad, their little boy (who is an annoying little bastard). You might think this family drama is important to the story, but you'd be wrong. KEMP, THE MAN WHO DONNA HAS AN AFFAIR WITH, FUCKS UP THE HOUSE SO THIS TORMENT CAN GO ON FOR ANOTHER 50 PAGES. WE GET A SCENE OF THE POLICE WHO MAKE DEPUTY DEWEY FROM SCREAM LOOK LIKE FUCKING COLUMBO. VIC COMES BACK BECAUSE HIS WIFE – WHOM HE SMACKED AROUND EARLIER – WON'T ANSWER THE PHONE SO RATHER THAN JUST CALL THE POLICE HE COMES HOME BECAUSE AS WE'LL LEARN NO ONE IN THIS FUCKING TOWN WILL DO ANYTHING FOR ANYONE. THE CASTLE ROCK POLICE DEPARTMENT REALLY SHOULD CHANGE THEIR MOTTO "WELL, IT'S PROBABLY A GHOST OR SOME OTHER SUCH BULLSHIT, WHAT DO YOU WANT ME TO DO?" BECAUSE THEY'RE BAFFLED THAT ANYONE WOULD LITERALLY WRECK A HOME. THAT'S SYMBOLISM THERE AS THE WIFE'S AFFAIR HAS FIGURATIVE AND LITERALLY WRECKED THEIR HOME. PRETTY CLEVER STEVE.
(Editor's note: we've just given Dan some Coumadin so that he doesn't have a stroke. The danger has most likely passed, but he's under observation.)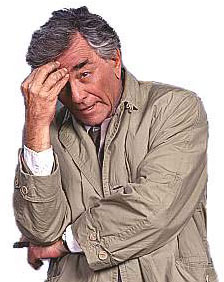 My main issue here is that King insists on explaining the ins and outs of how breakfast cereal is advertised. How ads are made from idea to television screen, how they decide on the mascots they do, and how it can be all torn asunder by the product gaining a bad name on its own. It's the third time we cut away to the father and his business partner going through every detail of what went wrong with one of their biggest ad campaigns that you thi-THIS BOOK IS MEANT TO BE ABOUT A FUCKING KILLER DOG. WHERE'S THE KILLER DOG? IS IT HIDING IN A CEREAL BOX? ALL THIS TALK OF RED DYE MAKING IT LOOK LIKE KIDS OF VOMITTING BLOOD HAS NOTHING TO DO WITH THE IMAGE OF A RABID DOG ON THE COVER OF THIS BOOK I BOUGHT. THE VERY WORST PART IS WE GET NO RESOLUTION TO HOW THIS AD CAMPAIGN TURNED OUT. THEY JUST STOP THAT STORYLINE-nk it might have gotten a little off topic.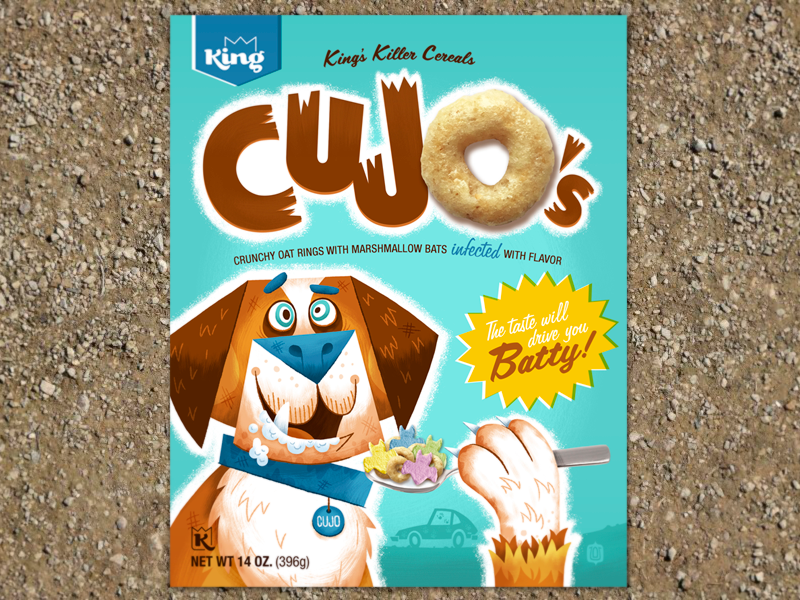 Back on topic, back on topic.
We have another family in the book who are much more working class, the Cambers. They are meant to juxapose the middle class family. In this case, we have Joe, the husband is abusive to his wife; Charity, the wife who wins some money on the lottery; and their son, Brett, who is, you guessed it, an annoying little bastard. They also own the eponymous Cujo. Their story primarily revolves around a trip the wife and son take to the big city to visit relatives so they can see how th-HALF THE CHARACTERS IN THIS BOOK FUCK OFF SOMEWHERE ELSE BECAUSE THEY'RE TOO BORED WITH LIFE IN THIS TOWN. WE GET SO MANY INSTANCES OF SEEING CHARITY AND BRETT IN THE BIG CITY AND THE KID IS CALLING EVERY TOWNSPERSON TO CHECK ON HIS DOG AND NO ONE DOES IT. LITERALLY NO ONE DOES, THEY ALL HATE THIS LITTLE BOY AND HIS DOG SO MUCH THEY'D RATHER SEE THE DOG DEAD THAN BOTHER. AGAIN, THIS BIG CITY PLOT IS JUST DROPPED WITH NO RESOLUTION-e other half lives.
I can do this, I can finish this review without ranting again.
So the killer dog stuff we do get is so minimal that book may as well be called Cereal and The Big City. Cujo is infected with rabies very early through a very convoluted series of events and you do feel sorry for him as it takes hold. The issue is he disappears for great portions of the book and doesn't really go on the Scarface-type rampage pop culture would have you believe. HE JUST SITS THERE LOOKING MENACING. WE HAVE A STAND OFF BETWEEN HIM AND THE TRENTON WIFE AND SON. THEY LITERALLY SIT THERE WAITING FOR THE FUCKING DOG TO DIE. MAYBE THIS IS A COMMENTARY ON ME LISTENING TO THIS BOOK JUST WAITING TO DIE SO IT CAN BE OVER. THERE'S ONLY SO MUCH YOU CAN HEAR OF SOMEONE CLAIMING THEY'RE THIRSTY BEFORE YOU START ROOTING FOR THE GRIM REAPER TO END IT ALL FOR YOU.
THE MAIN ACTION SET PIECE IS SOMEONE GETTING IN AND OUT OF A FUCKING CAR. IT'S LITERALLY DONNA GETS OUT OF THE CAR THINKING CUJO HAS GONE. SPOILERS: HE HASN'T. DONNA GRAPPLES WITH HIM AND GETS BACK IN TO THE CAR A LITTLE MORE BADLY WOUNDED. AFTER THE 4TH TIME THIS HAPPENS YOU REALLY START TO QUESTION IF WE'RE JUST BEING FUCKED WITH AS AN AUDIENCE. JACK TORRACE RUNS AROUND A HOTEL WITH A FUCKING AXE, CARRIE WHITE BURNS A TOWN TO THE GROUND, THE LOSERS CLUB FIGHT A FUCKING SPACE MONSTER, DONNA TRENTON GETS IN AND OUT OF A CAR. THERE ISN'T EVEN ANY TENSION, EVERY TIME THAT CAR DOOR OPENS YOU KNOW THE DOG IS WAITING RIGHT THERE BECAUSE RABIES HAS IMBUED IT WITH THE HUMAN CAPACITY FOR VENGEANCE (?) THIS IS LITERALLY THE MOST INTERESTING PLOT IN THE BOOK WHEN YOU'RE TRAPPED BETWEEN HOW CEREAL IS ADVERTISED AND A KID CALLING EVERY FUCKER IN THE TOWN TO LOOK AFTER HIS DOG. SO I'M ONLY LEFT TO ASSUME WE'RE MEANT TO BE CHEERING FOR CUJO AS HE IS SICK OF ALL THIS SHIT.
But the annoying kid dies, so that's one in the plus column.
References
Pet Sematary – Judd Nelson makes reference to Cujo's merry antics.
The Dead Zone – Frank Dodd is referenced several times, as well as the setting of Castle Rock in general.
The Film
Cujo and Batman have very similar origins to what shapes how they act, both cast in to a cave full of bats that surround them. But rather than becoming a bat-themed superhero infected by a need to for justice, Cujo just gets infected by rabies. I'm just saying, Batdog would've made for a more insightful hour and twenty something minutes than what I had to sit through.
I may have had some mixed words on the book, but at least they didn't just keep putting in drafts of the same scene. In the first half of the film you have Vic Trenton driving around in his car in two extended sequences, parents picking the annoying kid up from school and then summer day camp, and the wife breaking off her affair off in two different scenes. It feels like whoever wrote it had two versions of every scene they wanted to do and they just decided to shoot and use both of them. There's a scene set in a thick fog that sets in for one scene – no monsters to tear through this boring cast of characters though.
The quality of acting in this film lies firmly between Lifetime movie and porn for it's expressive nature. In the actors' defense, they have literally no characters to work with, just words on a page and plot that jumps around from boring point to boring point like a kangaroo accountant (or the film Kangaroo Jack). Dee Wallace has the most to do and even then her only moment showing any real emotion is saying, "Fuck you, dog" while letting her car that is barely working idle because in a life or death situation you need some catharsis. The killer dog equivalent of lighting a cigar as you walk away from an explosion.
I feel the most sorry for the dog actor in all this because he just looks miserable with all the prosthetics and make up on. Just want to give him a good wash and let him run around for a while because didn't choose to be in this terrible story of family drama and breakfast cereal where no one ever answers a damn phonecall. He does get a decent "the killers not really dead" moment right at the end which is pretty fun for slasher movie fans.
Differences
In the film, the kid doesn't die because it stripped away the one good point the book had.
I heard they're remaking this one and CUJO is now an acronym for something. Could look it up, but won't. Maybe someone else will have better luck with a killer dog story.
Overall I hated the book and I hated the movie. The next few months will be stuff that I really love by King, so this is the last of the screaming… for a while.
Next Time: We learn what M-O-O-N spells.